Bishop
The City of Bishop will be hosting their Annual "Big Day at the Park" on Saturday, July 4th .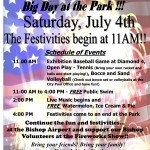 Everyone is welcome to enjoy a day at the City Park to celebrate the Fourth of July with activities starting at 11:00 AM and ending at 4:00 PM.
Starting at 11 AM – For the spectator, come and watch an exciting Exhibition Baseball Game at Diamond Four; For some exercise, bring your tennis rackets and balls and play on the city tennis courts or check in at the City Pool Office to check out a bocce ball set or a volleyball to get started on a game of bocce ball or get some digs in this summer in our volleyball sand courts!
To cool off – come and join us at the City Pool free of charge from 11 AM to 4 PM! Live music will begin at 2:00 PM and FREE watermelon, ice cream, and pie will be served from 2 PM to 4 PM. Don't miss out on the fun! If you need more information please call Bishop City Hall at (760) 873-5863. Hope to see you there!
Afterward, the Bishop Volunteer Fire Department will put on its annual fireworks show at the Bishop Airport.
Mammoth Lakes and Mono County
Friday
July 3
– Bridgeport festivities begin – Arts & Crafts Festival, Tri-Tip Shoot
9am
July 3
– Live music at 53 Kitchen at the Village at Mammoth
8:30pm
Saturday

morning
July 4 – Pancake Breakfast in Bridgeport
6:30-9:30am
July 4 – Lions Club Pancake Breakfast in Mammoth Lakes
7am
July 4
– Bridgeport 153rd Annual Old Fashioned Main Street Parade
10am
July 4 – Footloose Sports Freedom Mile in Mammoth Lakes
10:10am
July 4
– June Lake Community Center Book and Parking Lot Sale
10am-2pm
July 4
– Mammoth Lakes Main Street Parade
11am
July 4
– Mud Volleyball Tournament in Bridgeport 
11am
July 4 – 38th Annual Mammoth Celebrates the Arts show
11am
Saturday

afternoon
July 4
– Crowley Lake Fish Camp BBQ and music,
noon to 8:30pm
July 4
– BBQ in the Park in Bridgeport
11:30am
July 4
– Woolly's Summer
Saturday
at Mammoth Adventure Center
1-2pm
July 4 – Pops in the Park in Mammoth Lakes
July 4
– Rodeo in Bridgeport
2pm
July 4 – All American Picnic with music at the Village at Mammoth
2-7pm
July 4
– Greased Pole Climb in Bridgeport
3:30pm
Saturday

evening
July 4
– Bridgeport Fireworks after sunset
July 4 – Annual Fireworks Show at Crowley Lake
9:15pm
Sunday
July 5
– SUP Yoga on June Lake
9am
July 5
– Bridgeport Rodeo
11am
July 5
– Family Games and Music at the Village at Mammoth
11am-2pm
July 5 – Live Music at the Whoa Nellie Deli / Tioga Gas Mart
4-7pm
July 5 – Live music and Stilt Circus at the Village at Mammoth
6-9pm
July 5 – Fireworks at the Village at Mammoth
9pm
*Full Details:
###
Independence
The Fourth of July in Independence is not to be missed!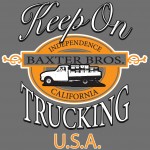 The theme of this year's Fourth of July Celebration, "Keep on Trucking", ties in with our Fourth of July Grand Marshals, John and Philip Baxter.  The Baxter Family has been a part of the history of Independence and the Owens Valley since the late 1800's.  The Baxter name is even on one of the Sierra's rugged mountain passes – Baxter Pass.
John Baxter's iconic 1968 Chevy Flatbed truck is pictured on this year's one-of-a-kind t-shirts.  Many of us have enjoyed Baxter Honey throughout the years, and if you look closely at the t-shirts, you will see the bee hives stacked in the back of the truck.
July 3rd Music & Dance – Dehy Park 8:00 PM until Midnight
July 4th opens with Flag Raising Ceremony at 6:15 AM
Pancake Breakfast 6:30 – 9 AM at Dehy Park
Historic Independence Walking Tour – Meet at Dehy Park at 8:30  AM
Tour leader – David Woodruff
4K/4 Mile Run/Walk registration at 6:30 AM and starts at 7:30 AM
Have Breakfast at the Park!
Arts and Crafts Show is at 8 AM on the Courthouse Lawn
Parade begins at 10 AM and goes both North and South on Highway 395
Pie Social is at Noon at Dehy Park, followed by
Spelling Bee at 12:30 P.M. and Old Time Kid's Games at 2 PM
Deep Pit Barbeque is from 4 – 6:30 PM at Dehy Park
Grand Finale Fireworks Display begins at dusk at the Independence Airport
OV School pool open for free swimming from 1 – 6 pm July 4th and July 5th
For more information, including parade entry forms, race entry forms and the Arts and Crafts show vendor application forms, please contact 760-878-2046 or email [email protected].
There is also a website where forms and information is available:  www.inyocountry.com
###
Independence J
uly 4th 4k run/walk
Starts at
7:30 am
across from Dehy Park – registration
6:30
-7:15
Pets welcome on a leash
All runners receive a printed pint glass, custom cotton grocery bag and all finishers receive a ribbon photo awards to top 3 male/ female
Course is run on shady tree lined streets, trails around alfalfa fields, wood lot and creek
All proceeds go to the Owens Valley Growers Cooperative
###
Big Pine
Annual Big Pine Firemen's 4th of July 5/10K Trail Fun Run and Breakfast
Includes T-shirt and finisher pin
Breakfast 7:30-10 am at MendenHall Park
BBQ from 3-6 pm
More information: 760-920-8313