Dale "Jug" Watterson, 64, of Bishop, Ca. passed away on December 21, 2014 in his home surrounded by loved ones.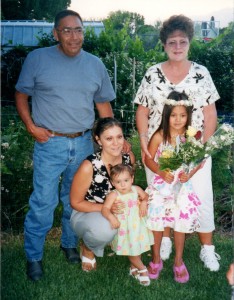 Jug was born in Bishop to Pearl Watterson on September 14, 1950.  He spent his childhood hunting and fishing with his Gramps, brothers and cousins. He joined the Army in 1969, he then met the love of his life, Patti Macklin and on August 14, 1976 made her a Watterson and together they raised two beautiful daughters.
Dale worked for the Bishop Union Elementary School district as a bus driver / mechanic and retired in June of 2010 after 28 years of service. He loved playing fast pitch softball, riding horses, branding cattle, watching his oldest daughter rodeo and his youngest daughter play sports. In the later years he enjoyed watching / coaching his grandkids in sports.
He enjoyed his hunting and fishing trips with his son-in-law Marin Parra. He loved riding in his jeep, hiking the mountains and looking for sheds with his brothers.
Jug was preceded in death by his Mother Pearl Allen, brother-in-law Wayne Chasing Crow, niece Kristen Andrade and nephew Harry Andreas III.
Jug was survived by his wife Patti, daughter Renee Parra and husband Marin Parra, daughter Monica Watterson, brother Leland Watterson, sister-in-law Monica Watterson, sister Valerie Spoonhunter and husband Ron Spoonhunter, sister Cynthia Stone and husband Raymond Stone Jr., brother Durice Allen, sister Ramona Chasing Crow, sister Brenda Allen, sister Clarice Andreas and husband Harry Andreas Jr., grandchildren Dante Parra, Falon Parra, Saige Connolly and Savannah Connolly. He also had numerous Nieces, nephews and cousins which he loved very much.
There will be a cry dance Friday, January 2, 2015 at 7:30 PM at the Allen residence located at 2832 North Sierra Hwy. Services will be held on Saturday, January 3, 2015 at 11AM at Brune mortuary with internment to follow at West line Cemetery.