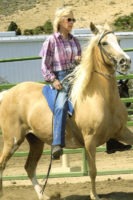 Judith Ann Baxter passed away peacefully on November 21, 2021. Judy was surrounded by her loved ones during her final days in the home that she has lived in over 65 years. Judy was born in Bridgeport, CA to Roy and Betty West on March 28, 1944. She resided in the area for most of her young adulthood before briefly moving to Carlsbad, NM. Returning to Walker in 1973, she remained a friend to many of the city's residents.
Judy had a great love for animals and especially horses. Judy could be seen horseback riding in the beautiful Antelope Valley and participating in local gymkhanas. As a young adult, she led horseback tours around various locations in the Sierra Nevada mountains. She also worked as a dealer at Topaz Lodge before starting her own business. Judy owned the Crafty Needle & Tole, which was a staple of the community. With an artistic flair, she taught tole painting for many years before branching into a professional embroidery business. Judy also loved collecting jewelry, attending quilting retreats with her good friends, and making intricate quilts for her loved ones.
Judy is preceded in death by her father Roy Ronald West, mother Betty Jean Loveless-West, and sister Diane Reay. Judy is survived by her beloved husband of 45 years, Don Baxter of Walker, CA and her son Chris Beason of Hudson, OH; grandsons Shayne Beason, Cameron Beason, and Cole Beason; niece Toni DeHerrera; nephew Jarret Dennison; and uncle Larry Munson.
The family will be a holding a Celebration of Life in 2022 and details will be available early next year. In lieu of flowers, donations can be made to the Pine Nut Wild Horse Advocates or Between Horses and Humans in Gardnerville, NV.