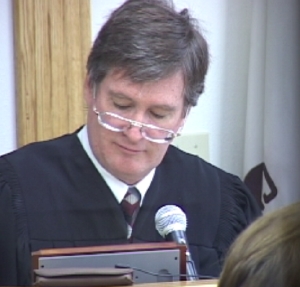 Members of the public and commenters on our website have pointed a critical finger at lawyers and the court for sentencing John Christiana to probation for the arson fire that destroyed the well-know Bristlecone Pine Visitors Center. Judge Brian Lamb said hew as presented with a settlement agreement by the district attorney's office.
Judge Lamb said his options were to approve the settlement or disapprove it and see Christiana go to trial. The Judge said he does not have the authority to change the terms of the settlement which did include the agreement by federal authorities not to file separate charges in this case.
Judge Lamb explained that the visitors center sat on federal land so the federal and Inyo court had concurrent jurisdiction.
How does Judge Lamb respond to public views that 5 years formal probation for Christiana is too lenient? The Judge said that Christiana had "served quite a bit of time in custody" and had strict terms of probation, including mandatory mental health counseling, treatment and rehab, no possession of fire-making instruments or fire arms.
Judge Lamb said he stated in court that Christiana's act of arson was despicable and struck at the heart of the public park system. "I stated that this was not just an injury to property. It hit at the heart of why people come here from urban areas – to enjoy the retreat of this kind of trouble."
We placed a call to the District Attorney's office to ask about the plea agreement but received no call back as of news time.