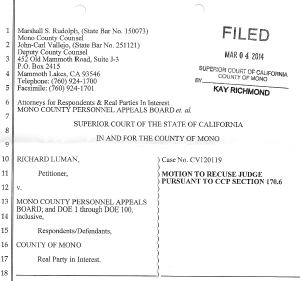 Dick Luman worked as a mechanic for the Mono County Road Department for 15 years. In late 2011, he was fired for an alleged physical fight with a road operations supervisor. He appealed that termination which was upheld on the grounds that he threatened his supervisor, not that he had a fight with him. Today in Mammoth Lakes Court, Luman's case for reinstatement was scheduled to go before Judge James Garbolino. However, the hearing was continued until March 26th after the Mono County Counsel's office filed a motion to recuse the Judge on grounds that Mono can not get a fair hearing before him.
Deputy County Counsel John Vallejo filed the motion to remove Judge Garbolino and to ask that another judge be assigned to the case. Local judges had recused themselves in this case. Mr. Vallejo's motion says "The Honorable James D. Garbolino, the judge before whom this action is now pending, is prejudiced against the County of Mono, so that the County of Mono cannot, and the undersigned believes it cannot, have a fair and impartial trial or hearing before his Honor." The motion requests a new judge.
It was Judge Garbolino who heard the County's motion to reverse arbitration decisions made in the case of former Deputy Jon Madrid. The Judge had ruled strongly in Madrid's favor and quoted from the record numerous details unfavorable to the County and Sheriff's officers.
The County Appeals Board back in 2013 included Sheriff Ralph Obenberger, County employee Ken Goode and then Supervisor Tim Hansen who filed a dissenting opinion to go against the termination. He argued that remarks that Luman may have made should not have prompted termination. The other two appeals board members upheld the firing.
Luman's attorney, Katie Bellomo, filed a writ to overturn the termination. She alleged "prejudicial abuse of discretion" on the part of the County and others. The petition basically said that Mr. Luman was fired for making a wisecrack to his supervisor who was initially fired and then reinstated. The petition says Luman lost wages, benefits, retirement contributions and the right to public employment. The petition asks the Court to reinstate Luman with all pay, benefits, seniority and other considerations.
More on Luman's case at 9:30am in Mammoth Court on March 26th.