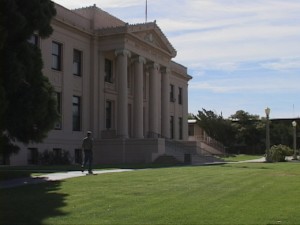 Inyo Presiding Judge Brian Lamb denied District Attorney Art Maillet's motion to disqualify Public Defender Elizabeth Corpora from representing murder suspect, Louis Leplat.
Earlier this month, Maillet had filed a motion to disqualify Corpora. He alleged that she had represented one of his witnesses in the Leplat case which created a conflict of interest. The witness is Daniel Casteel and Corpora did represent him on criminal charges.
Corpora argued that she had no conflict and learned nothing in her representation of Casteel that she would use in her representation of Leplat. She also pointed out that Leplat had signed waivers regarding any conflicts with her previous clients.
Judge Lamb apparently agreed. Friday in court the judge heard arguments from Corpora and Maillet and then denied DA Maillet's motion and upheld Elizabeth Corpora's appointment to represent Louis Leplat. Judge Lamb indicated that he would likely release points and authorities regarding how he ruled, according to court spokesmen.
Leplat's case was then set for further scheduling on Tuesday. He had earlier been set for a jury trial in Ventura on October 18th. That date was vacated when the District Attorney filed the motion to disqualify.
Leplat was arrested more than a year ago in connection with the stabbing death of James Rambeau of Bishop in a home on the Indian Reservation.