In a recent decision, Judge Lee Cooper told the Sierra Club and Owens Valley Committee that they have to let nature take its course in the Lower Owens River and forget about micro-managing DWPs river management plan.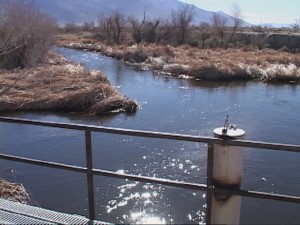 Judge Cooper found in favor of DWP on two issues and in favor of the Sierra Club and Owens Valley Committee on one point. Another issue is pending. The environmental groups argued that DWPs river plan is too loose and would not take fast enough action if certain species of wildlife began to decrease. Judge Cooper agreed with DWP that the management plan must be adaptable based on actual experience with the project.
The Judge also disagreed with the environmental groups who said DWP does not have a tight enough plan to gauge progress on vegetation development in the river project. The Judges decision says, Experience suggests that nature, having created many successful rivers including the Owens before DWP, is going to do pretty much as it pleases regardless of how we interfere.
The Judge did agree with the environmental groups who complained that DWP had failed to consult with the Department of Fish and Game on the amount, duration, timing and ramping of the seasonal habitat flows. The Judge found DWP had failed to include Fish and Game on this critical point.
Still undecided the environmental groups allegation that DWP has improperly dealt with the potential need to increase seasonal river flows. The Judge has asked both sides to submit further briefs on this issue. That may happen later this month.