Juanita Inez (Ruiz) Ellis joined her Lord God on December 2, 2016. A lifelong Owens Valley resident, she is reunited with her beloved sisters, Gracie, Vina, and Pauline, and brother, Carl.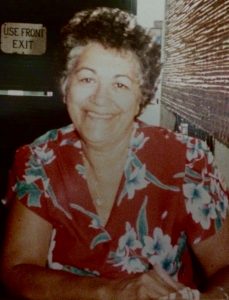 Juanita was born in Lone Pine on December 8, 1925 to Pauline (Valdez) and C.D. Ruiz. She was born into a large and loving family that included many aunts, uncles, and cousins, as well as her grandfather, Ignacio Ruiz. From the start, Juanita learned the value of hard work, honesty, compassion, generosity, tolerance, discipline, strength, and faith – all virtues for which she was known and admired.
Faith, above all, sustained and guided Juanita over the duration of her long life – the course of which was shaped by a leap of faith she took after graduating Lone Pine High School in 1944 when she boarded a train for North Carolina to marry her sweetheart, James Ellis, in North Carolina.
Jim had begun courting Juanita in 1942 when he was in Lone Pine with the Civilian Pilot Training Program and she was working as a soda jerk at the local pharmacy. The couple's courtship continued after Jim entered the U.S. Marine Corps and was shipped back East.
He eventually sent his love some money for a train ticket so they could reunite and marry, and, although she had never been outside of Lone Pine before, Juanita bought that ticket.
She and Jim were married shortly after, on July 22, 1944 at the Holy Trinity Church in Kinston, N.C.
Juanita and Jim spent the next 72-and-a-half years at each other's sides, separated only by war. The couple moved from Lone Pine to Santa Ana when Jim was called back into service for the Korean War, after which they moved to Las Vegas and then Round Valley before settling back in Lone Pine, where they purchased Ellis Motors in 1961. In 1969, they moved to Bishop where they established Eastern Sierra Motors, a family business sold in 2003. The couple closed Ellis Motors in the 1970s.
Juanita and Jim were soul mates as well as partners in everything they did – raising three kids, running two successful businesses, and weathering life's inevitable storms. No matter the challenges they faced, their love and devotion for one another never wavered. They were remarried a total of four times, renewing their vows at 25-, 50-, 60- and 70-year anniversaries.
Juanita was active in many organizations, including the Mt. Whitney Golf Club, and volunteered at her beloved Catholic Church. Most mornings she could be found there receiving communion with a smile and kind word for her fellow parishioners.
She enjoyed a close relationship with her siblings and spent a lot of time with her sisters in particular, fishing, cooking large family meals, traveling, and generally getting into whatever hijinks they could find.
She was a first-class seamstress, a talented artist, and gifted gardener until arthritis limited her ability to continue these activities. Juanita was an amazing cook, known for everything from tamales and chile con carne to fried chicken and potato salad to apple pie and empanadas. Juanita passed on many of her cooking skills and recipes to her children, grandchildren, and great-grandchildren – all of whom can say they've been taught how to make homemade tortillas.
She was beautiful in every sense of the word and lived with a fierce determination and quiet grace. She was a fierce protector of her family, which was her pride and joy. She was everything to her family: a source of family history, of comfort and advice; a teacher of life skills and life lessons; a storyteller and sounding board; a healer of wounds and hearts; an unparalleled role model; the sun around which they all orbited. She was kind and classy, but also had a salty sense of humor. The sound of her laughter was the best sound on earth.
The family takes comfort in knowing Juanita is now at peace, and in knowing how blessed they were to have had her in their lives for as long as they did.
Juanita is survived by her devoted and loving husband, James; sisters-in-law, Geri Olsen of Bakersfield and Rosalie Ruiz of Redding; three children and their spouses, Nita and Sonny Lindsey of Lone Pine, James and Linda Ellis of Bishop, and Robert and Cathy Ellis of Bishop; eight grandchildren and their spouses and partners, Mark Lindsey and Julie Lindsey-Hanson, both of Bakersfield, Debbie Wethern of Reno, Nev., and James Ellis, Rick Ellis, Tyrell Ellis, Darcy Ellis, and Jennifer Ellis, all of Bishop; and 16 great-grandchildren.
She also leaves behind many friends and fellow parishioners at Our Lady of Perpetual Help Catholic Church.
A memorial mass will be held at 11 a.m. Saturday, December 10 at Our Lady of Perpetual Help Catholic Church in Bishop with Father John Gracey officiating, followed by graveside services and then a reception at the church parish hall.