Joyce Joan "Carter" McDowell, 86, passed away on May 5, 2015 in her residence in Yucaipa, Cali. Joyce was born in Long Beach, Cali., On March 6, 1929.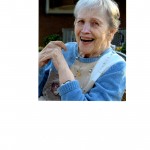 Joyce first marriage was to Robert Wright and together they brought 3 children into this world, Ronald, Janelle and David. Later she was married to Donald Swenson and together had a child Kim. Joyce and Donald owned several businesses together in Bishop for many years, including the franchise of H&R Block for Inyo and Mono Counties, Swenson's Bookkeeping Service and Swenson's Family Restaurant. Joyce then married Richard McDowell in 1985 and enjoyed the retirement life in Bishop, fishing the surrounding areas of Mammoth Lakes and Bishop; she also enjoyed traveling the United States.
Joyce is survived by her husband of 30 years Richard McDowell, 3 children; Janelle Wade, David Swenson and Kim Swenson also, grandchildren; Jeff, Amber, Justin, Joshua and Rebecca, and 7 great grandchildren.
A graveside service will be held 11:00 a.m. Tuesday May 12 at the East Line Street Cemetery, Bishop.
Everyone is welcome to attend.