Inyo County DA's office news release
Lone Pine area resident Jeremiah Joseph was arraigned today in the Superior Court of California, County of Inyo, on a felony complaint charging six counts of attempted murder,  one count of discharging a firearm at an occupied vehicle, one count of assault with a firearm, and one count of battery causing serious bodily injury.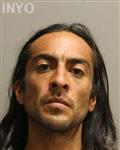 The complaint also alleged special enhancements that the defendant was personally armed with a firearm during the commission of the offenses, and that he discharged the firearm in the commission of the offenses.
Mr. Joseph entered "not guilty" pleas to all charges, and the case has been set for a settlement conference on August 21, 2018and a preliminary examination on August 29, 2018.  Bail is currently set at $1 million, with additional conditions that he participate in the Inyo County pre-trial release services program should be post bail.
The incident involves an alleged shooting which took place the night of August 13, 2018 on Esha Street in Lone Pine.  The matter was initially investigated by the Inyo County Sheriff's Department.  As is usual in most criminal cases, the investigation is continuing, and if anyone has any information regarding the events they are urged to contact the Inyo County District Attorney's Investigations unit, or the Inyo County Sheriff's Department.
The District Attorney reminds the public that a defendant in any criminal case is presumed to be innocent until the contrary is proved beyond a reasonable doubt.