Press release
Iyaydzi (the Paiute term for Hetch Hetchy) was once known as a Paiute paradise.  On Monday, April 1st, Joseph Lent will present a slide talk at the Mono Basin Historical Society meeting.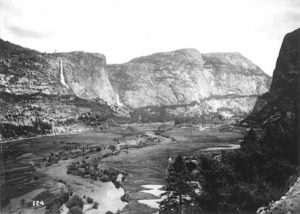 A potluck dinner and business meeting begin at 6 PM at the Lee Vining Community Center; the program begins at 7 PM. Hetch Hetchy is a close counterpart of Yosemite Valley, and was highly utilized by the aboriginal people until it was turned into a water reservoir in 1919-1923.
The area continues to be an important site to the Paiute people to this day.  Joseph Lent is Tribal Historic Preservation Officer for the Bridgeport Indian Reservation.  His  main area of expertise is in the traditional knowledge of the Paiute People and their traditional homeland.
All are welcome. Free!
Visit the Mono Basin Historical Society webpage at www.monobasinhistory.org.