Clifford Allen Jones
9-3-1926 to 2-17-16
Clifford Allen Jones born, in Lethbridge Alberta Canada to Laura and Walter Jones. Cliff came to Bishop when he was 8 yrs. old.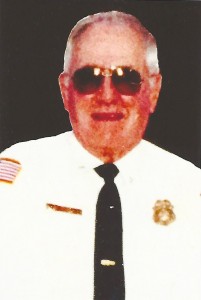 He lived on the Matlick Farm until he enlisted in the Navy at the age of 17 assigned to the USS Manilla in the South Pacific during WWII, was called back to serve in the Korean War.
Upon returning home he went to work for Cal Electric/California Edison, retiring in 1985. Cliff was an active member in the Bishop Volunteer Fire Department for 50 years, a valuable member, he enjoyed every minute of his service participating in all community projects.
One of his favorites being Christmas tree and candy handouts on Christmas morning with the Good Fellows organization.
He his preceded in death by his parents and 3 children Amy, Allen and Leslie.
Cliff is survived by his wife Shirley of 65 years, and 2 children Julie and Jonathan, several grandchildren, and great grandchildren.
The family asks in lieu of flowers you make donations to the Bishop Volunteer Fire Department. Graveside services to be held at East Line Street Cemetery on February 26th at 11am, followed by a reception at The First Presbyterian Church in Bishop.