Jon Robert Michener, 58, long time resident of Inyo and Mono counties, passed away on July 30, 2016.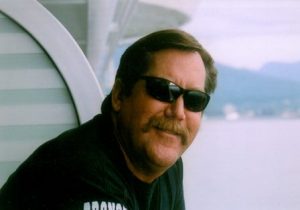 Jon was born in Whittier Ca. and was the youngest of three children to Bob and Wilma Michener. As a young boy, Jon's parents bought the Pine Cliff Lodge and moved the family to Mammoth Lakes where he spent his youth. As a young man, Jon was highly involved in sports, setting both school and division records in basketball.
Jon graduated from Mammoth High School as a member of the second graduating class and proudly laid claim to being instrumental in the choosing of the same "cardinal and gold" colors that were worn by his beloved USC Trojans.
Jon found his second passion in life by working as a carpenter during his high school summer breaks. Jon moved from Mammoth to Bishop after his high school graduation and he worked for Dempsey Construction for twenty two years before starting his own company, Jon Michener Construction, then eventually becoming the Inyo County Building Inspector.
Jon loved to see the fruit of his labors come to fruition right before his eyes as he built his homes and he took great pride in being a quality craftsman. He never felt that anything but his best was acceptable and had a true eye for detail. His work can be seen throughout Inyo and Mono counties, and he was proud to have helped build this community that he loved so much.
On the family side of things, in the spring of 1980, Jon met his future wife, Vicki Hastings and they were wed in February of 1981. Jon and Vicki had three sons, Torey, Garrett and Jake.
Jon was an active participant in his boys lives. He coached little league baseball for each of his sons until they reached high school and continued by becoming head coach of the Bishop Union High School boys varsity basketball program for ten years.
Throughout Jon's twenty plus years of coaching sports, he felt it was his responsibility and privilege to be a role model, life coach, cheerleader and friend to every one of his players. Jon wore his heart on his sleeve for the youth of this community and he loved doing it.
As a friend, Jon was known for his honesty, integrity, love of hunting and the outdoors, love of sports and love of family. Jon was always willing to say hello, give a handshake, or wave to anyone and everyone and he had the uncanny ability to remember exactly who you were and where you met … even if you had only met once.
Jon could give you the statistics for any team or player in any sport ranging from football to ping pong, and if you were a fan of the Rams, Dodgers, Lakers or the Trojans, you could always rely on him for a play by play breakdown of the last game. To Jon, being a fan of any other sports team was "sacrilege" or "un-American" and he would let you know it with a smile and a not so subtle brow beating.
Jon was preceded in death by his father Bob Michener. He is survived by his mother Wilma, sister Robin Fernandez, brother Mike, his wife Vicki and their sons, Torey (wife Aimee), Garrett (wife Josie) and Jake (wife Amanda) along with two granddaughters Taryn and Dylan, and many great friends.
There will be a Celebration of Life August 20 at 10:00 am, at Bullpit Park on Line Street in Bishop.