– Press release
Fresh off the finale of the resoundingly acclaimed three-week run of "Guys & Dolls," as
a special thanks to all patrons Playhouse 395 will on May 4 host a much more personal
and intimate event, "An Evening With Friends." Playhouse 395's own local artists will
perform wonderful songs and scenes from past shows such as "The Wizard of Oz,"
"Annie," "The Music Man," "Guys & Dolls" and more.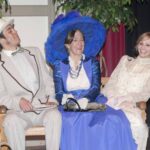 "An Evening With Friends" takes place on Monday, May 4 from 6:30-9 pm at the
Mountain Rambler Brewery on South Main St. in Bishop. A cover charge of $10 includes your choice of one glass of Mountain Rambler tap beer or wine and hors d'oeuvres.
Additional selections will be available at the Mountain Rambler Brewery. Meet new friends, and cast and crew members from our shows, and catch up on the latest about Playhouse 395, including upcoming events and productions.
Learn how you can become involved in the organization and productions, and ways you can support local performing arts financially and with your talents. Playhouse 395 Board members will be on hand to discuss your suggestions for activities you would like to see Playhouse 395 undertake.
We highly value your input so please come to share your ideas, and to have a fun evening!