National Night Out: Tuesday, August 7, 2018
Press release
Join over 38 million neighbors across 16+ thousand communities around the nation for National Night Out, an annual community – building campaign that promotes police-community partnerships and neighborhood camaraderie to make our neighborhoods safer, more caring places to live. Together, we are making that happen.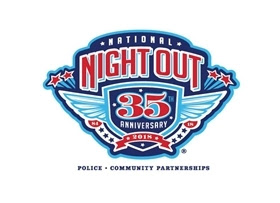 National Night Out is a crime and drug prevention event that is sponsored nationally by the National Association of Town Watch and co-sponsored locally by the Bishop Police Department.
Along with the traditional outside lights and front porch vigils, most communities celebrate National Night out by hosting block parties, festival's, parades, cookouts and other various community events with safety demonstrations, seminars, youth events, visits from emergency personnel, exhibits and more.
National Project Coordinator, Matt Peskin said, "This is a night for our nation to stand together and promote awareness, safety, and neighborhood unity. National Night Out Showcases the vital importance of police-community partnerships and citizen involvement. When law enforcement and the community work closely together, some amazing things can happen."
Join us on Warren Street on Tuesday, August 7th, 2018 from 6PM – 8PM. The public is invited to come out and get to know your neighbors at a community block party. We will have Law Enforcement & Fire Department displays, Breast Cancer Awareness Patch Fundraiser by the Key Partners – Wives Behind the Patch group, a 911 For Kids Phone Booth, and much more!
For more information or to be a part of the events, contact event coordinator, Molly Lawrence at the Bishop Police Department (760) 873-5866