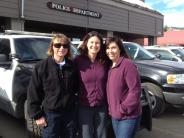 Mammoth Moves
Thanks Kari Orr for taking us on a walking tour of the Safe Routes to School sidewalks, which are plowed throughout the winter. It was nice to get out in the sunshine, move about, and soak up some Vitamin D!
Coming up Wednesday, January 30, please join Brooke Bien, Donnie Salamanca, and Kathy Emerick from Mammoth Unified School District for some fun aerobic activity in the Mammoth High School Gym. Wear comfortable clothes and shoes for exercising.
Arrive at 12:10 p.m. and we will exercise from 12:15-12:45 p.m.
Please remember, if you would like to be a Mammoth Moves leader again, or know someone that would make a great community leader, please let me know!!! We are booked with leaders through February 6th, then the sky's the limit.
Website: www.monohealth.com/public-health/page/mammoth-moves
Facebook: www.facebook.com/pages/Mono-County-Health-Department/187046401307802.