John W. Young, age 77, resident of Bishop for 36 years, born in Millersville, TX on May 4, 1936, passed away July 18, 2013 at Renown Medical Center in Reno, NV.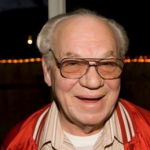 John is probably best known as the owner of KIBS/KBOV radio in Bishop from 1976-1995. He still enjoyed hosting "The John Young Classic Country Program" on KIBS Saturday afternoons.
In 1997, John and Betty Young bought the The Trees Motel on West Line Street.
During this time, John was elected to the Bishop City Council, served two terms and was mayor for part of that time. He retired from the council and sold the motel in February, 2007.
John was involved in many local organizations over the years including the Bishop Chamber of Commerce (past president), Bishop Rotary Club (Paul Harris Fellow) and Bishop Elks Lodge (lifetime member).
He is survived by his wife of 51 years, Betty Young of Bishop; daughter Terri Hawley of Pueblo, CO; son and daughter-in-law Gary and Rochelle Young of Bishop; son-in-law Fred Hodapp of Thousand Oaks; granddaughters Breanna Petersen of Oakland; Tawni (Matt) Nolting of Pueblo, CO; and Heather Hodapp of San Diego, CA; grandson Cory Young of Thunder Bay, Ontario Canada; and too many Texas relatives to list!
He was preceded in death most recently by his daughter Sandee Hodapp and his sister Pam Rowe.
Funeral services will take place Saturday, July 27th, 1 pm at the Crossroads Church, 315 E. South St., Bishop, with burial to follow at the East Line Street Cemetery. Rev. Kathleen Puntar of the First United Methodist Church will officiate.
A celebration of John's life will follow at the Bishop Elks Lodge. Suggested memorial donations to ICARE or the charity of one's choice would be greatly appreciated.