John Lee age 60, passed away to be with the Lord on April 17, 2015 in Whitter CA.  John was born to John Lee and Joan Lee Olive on March 17, 1955 in American Fork Utah.  John moved to Independence when he was 13 years old.  He graduated from Owens Valley High School in 1972.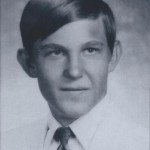 He worked for Department of Water and Power for 17 years.  He really loved spending time setting up and running the sound system for his church and participating in church activities.  He loved the Lord, his family and friends.
John was preceded in death by his father John Lee.  John is survived by mom Joan Lee Olive, brother Jeff Lee, nephew Dustin Lee, niece Denay Lee, sister Jody Scott, husband John, nephew Ryan and Kyle Scott and sister Jill Gonzales, husband Juan, nephew Bryan Gracey and Anthony Gonzales.
John is also survived by his daughter Faith Holbrook, her husband Ralph and three grandchildren, Zachary, Helen and Joseph.
Celebration of life graveside services were held April 25 at the Independence cemetery with a gathering after the services at the Methodist Church.