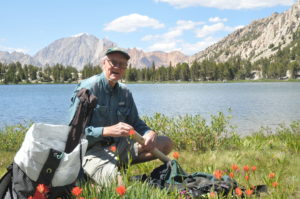 On Wednesday August 14, 2019, John Fred Wedberg, loving husband and father of three children entered eternal life after 90 adventurous years on earth.
John was born on September 21, 1928 in Redlands, CA to Fred and Vivian Wedberg. He was a Master Sergeant in the Army serving during the Korean War then passed his brokerage exam in 1953. He worked as a stockbroker until his retirement in 1993. On December 7, 1965 he married Patricia Ann Wedberg. They raised two sons and one daughter.
John had a passion for music; with a deep knowledge and appreciation for jazz from the 30s and 40s era. He shared that love gracing the airwaves of the Eastern Sierra with a radio show on the Sierra Wave for 14 years. He began playing jazz piano in elementary school and continued playing his entire life. For many years local residents planned their Sunday's once each month around seeing his band For The Love Of Swing play at Whiskey Creek. He also regularly shared his music with residents at the Bishop Care Center and Sterling Heights, the Soup Kitchen and the Methodist Church.
John had a love for vintage cars. The first car he owned after high school was a Model A Ford. Over the course of his life he always had a Model A Ford in his garage. After moving to Bishop in 1993 he helped found the Eastern Sierra chapter of the Model A Ford Club of America.
Another passion he shared was a deep love for the outdoors. His mountaineering resume includes numerous peak ascents throughout the Sierra, 28 climbs in the Alps, and one volcano in Mexico. He learned how to ski in the late 50s and continued backcountry skiing for the next 45 years going on countless ski tours in the Sierra. He was involved in several sections of the Sierra Club. He was a founding member of the Sierra Peaks Section, and was active with the Rock Climbing Section, Ski Mountaineers Section, Alpine Ski Touring Committee, New Member's Committee, and the Baldy Hut Committee. Anybody who shared an adventure with John quickly learned of his infectious nature and he always enjoyed sharing that love with eager folks wishing to learn about the outdoors.
John was also active in the Methodist Church. He served as chairman of the Finance Committee in Santa Monica. After moving to Bishop he played piano and hand bells during services in addition to spearheading the building fund which led to the completion of the Methodist Church's Social Hall in Bishop, which is now a blessing to many events including the Soup Kitchen that continues to be a great outreach ministry to the Bishop community.
Other interests included a love of flying and a passion for fly fishing and could be seen tying his own flies in the evenings.
John was preceded in death by his father Fred, mother Vivian, and sister Hilda May. He is survived by his wife Patricia, his three children Kurt, Christina, and Troy, his brother Hale Lee, two grandchildren, several nephews, and one niece. A service will be held on Saturday, August 31, 2019 at the First United Methodist Church, 205 N Fowler St, Bishop CA 93514 at 4:30pm. Flowers and donations may be sent In Memory of John Wedberg, 369 E Pine St, Bishop CA 93514.