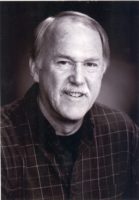 John lived his life with the great understanding that love and passion should drive all forces we encounter. John had more love in his life than words can express, beginning with his wife of 37 years, Nancy Upham Louth. They were married in June of 1984 in the Bay Area, where they were both born and raised. Together they raised their two sons Danny and Shawn here in the Eastern Sierra.
John's passions had no beginning nor end, but were a living stream of devotion and dedication. After getting his Bachelors at the University of Nevada, Reno and his Masters at Cal Poly San Luis Obispo, John occupied his time with some passion driven work interspersed with some south bound trips to catch the surf in Mexico, backpacking the high Sierra or chasing any snow clad hill he could ski down. John focused his career on preserving and protecting one of the most sacred of living things, Trees. With a career in the Forest Service spanning nearly 40 years, John did everything from fighting forest fires to protecting the Ancient Bristlecone Pines and managing the forest they live in, as well as the visitor center that thousands
from around the world visit every year to learn about the ancient trees. John spent his time away from work traveling the globe with his wife, good friends, and sometimes his kids, finding sparkling destinations such as Italy and France, or pursuing wild adventures in Nepal, Kenya and Costa Rica. John's passion for travel and limitless desire to help others was his avenue to spread his warmth and give love and charity to all that had the blessing of his encounter.
Back home in Bishop, when John was not on a hike identifying every single wildflower, coaching T-Ball or tutoring students in math, he would often be seen speaking at or hosting an assortment of charitable events, fighting for environmental protection or seeking rights and justice for all human beings. He gave much of his time and money to support local businesses and always believed in the little guy trying to make it. You could catch him on any given summer evening sporting his beloved San Francisco Giants gear and gazing out to ponder at the astonishing performance that is the night sky. If you were lucky enough to follow local community theater, you would also know that John had an affinity for song and dance accompanied by a charm that was rivaled by few.
John will forever be in the gentle breeze that pirouettes with the trees, flowing with the cold mountain waters that cascade to the valley floor, in the twinkle of the stars, and most of all in all of our hearts.
A Celebration of Life will be held later in the spring. To honor John, please plant a Tree on or around his March 31 birthday. You can also make a donation to Friends of the Inyo, any favorite environmental or social justice organization, or the Eastern Sierra Cancer Alliance.