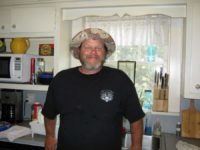 John left this world on January 25, 2022. He was a loving son, father, grandfather, brother, neighbor, and friend. John enjoyed prospecting, working on cars, being outdoors, and spending time with his family.
John is survived by his mother Judy Bone-Johncox, daughter Kara Bone and husband Noe Lopez and their children Matthew, Julian, and Camilla Bone; son John Bone II and wife Zoe and their children Roree, Johnny, and Luna; sister Sue Chudy and husband Craig; nephews Kario Chudy and Lowell Chudy and other extended family.
There will be a Remembrance Gathering on February 26th at 1:00 at the Chalfant Community Center, 123 Valley Road, Chalfant Valley.
There will be a potluck, please bring a dish and your happy and funny memories to share.