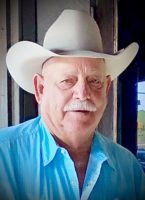 John "Johnny Mac" McMurtrie passed away on December 15, 2021 in Los Angeles California. Born April 10, 1945 to Angus and Minnie McMurtrie, John was a life-long resident of Bishop. He graduated from Bishop High School class of 1963. John attended Bakersfield College before being drafted into the Marine Corp where he then headed to Vietnam to serve this Country he loved.
John married the love of his life, Nancy Tallon McMurtrie, and together for 53 years, through thick and thin, they built their lives and raised their two sons, Jack and Garrett. John's love of the cowboy life had him riding bulls in the CCA & NCA. He lived his dream, raising cattle and riding horses for the rest of his life. John was a member of the American Legion and a life member of the VFW Post #8988. He supported the Bishop Homecoming Rodeo Association, Mule Days, High School Rodeo, and coached Little League Baseball. He loved his family, friends, and the Owens Valley, good conversations, sharing his knowledge with others, a good book, a game of cribbage, and a Coors Light.
John spoke his mind, loved fiercely and stole your cribbage points. John's nephew, Robert Lay says about his Uncle John: "Heroes don't wear capes; they wear cowboy hats and Wranglers". Preceded in death by sister Janie Carrington and brother Angus "Mac" McMurtrie, John is survived by his wife Nancy, son Jack and wife Kelly, proud grandfather to McKenna and Johnny, son Garrett and wife Alisha, Sisters Beth McMurtrie, Andy McMurtrie, Mary Ellen McMurtrie, and many cherished nieces, nephews, extended family and friends. Graveside Services to be held on 11:00 am January 15, 2022 at the East Line Street Cemetery in Bishop with a Celebration of Life to follow at the Tallman Building at the Tri-County Fairgrounds. In lieu of flowers we gratefully accept your kind thoughts and prayers.