Joanna Margret Uhler
10/15/32 – 09/28/19
Born in Cleveland Ohio to Joseph and Helen Stevens. Joanna grew and thrived scholastically,her father being a school teacher her mother a homemaker and musician.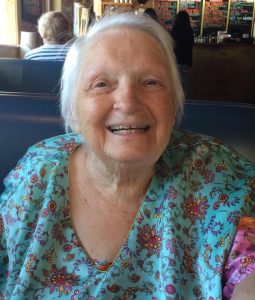 Along with her younger siblings, Mary,Gregory,and Rosalind.While in high school she met the love of her life William Z Uhler and soon after married, together they raised their six children, Mark,Ted,Kurt,Gretchen,Brian and Rebecca.Hard working and dedicated our mother and father raised us well,as her children we are forever grateful to have parents that taught us the love of family and nature, having the best vacations camping in many places. Joanna was known for her sense of Humor,making every day troubles much lighter. Joanna was preceded in death by her husband and brother and sister Rosalind. Survived by all her children and sister Mary,multiple grand children and great grand children. A memorial will be held in Elk Washington in November. The family would like to thank everyone for heart felt prayers, the dear friends of Sterling And Bishop Care center. Joanna loved Jesus Christ her savior and is now in heaven .