This is a good news story created by a lot of hard work and love. Lori Ciccarelli of Mammoth Lakes realized early that her son, Jeremy, suffered from Autism. She went to work to help Jeremy prevail. Jeremy is now 20 and was accepted to college. Lori's film about her son, JJ's Journey has received international recognition.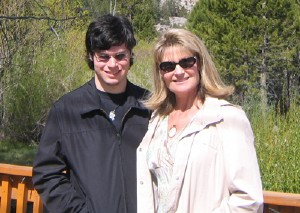 First, Jeremy. He will attend Point Loma Nazarene University where he will earn his bachelor's degree in graphic design with a concentration in illustration and a minor in writing. JJ completed his first year of college at Cerro Coso Community College in Mammoth Lakes. JJ has an Autism Spectrum Disorder called Asperger's Syndrome, has accomplished a lot and hopes to publish a book or two.
On Lori and her film, JJ's Journey has been nominated for the 2009 Autism Society of America Media Excellence award and is an official selection for the International Christian Film Festival in the UK.
JJ's Journey will be shown at the festival in Barry, South Wales on August 11th. Lori Ciccarelli also received an invitation from the coordinator of the African Entrprise International Film Festival to submit her film for the June 2010 film festival in South Africa. Check it all out at www.autismjourney.net