James "Jimmy" Daniel Chester Huber, forever age 25, passed away peacefully, and surrounded by loved ones on November 17, 2014. Jimmy touched many hearts, he had the gift to make people laugh and make people feel comfortable.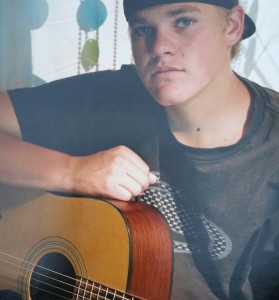 He was an avid musician who could play anything but mostly shredded that guitar. He loved his gold and his motorcycle. Jimmy was survived by his beautiful, soul mate wife Emerald "Emmy" (Jimmy and Emmy forever), his twin son Jasper (also a motorcycle enthusiast, couldn't tell you enough about "Daddy's Bike", mother Jane Miller, father Jim Huber, sister Julie and nephew Wolf, grandparents Daniel Miller Sr., Sally Topham, Chester Huber (deceased) and Mary "Fran" Huber (deceased), also many aunties, uncles, cousins, and friends.
A cry dance will occur on Saturday, November 22, 2014 and burial services will be held at the Independence Cemetery on Sunday, November 23, 2014 at 2:00 pm. We love you so much Jimmy D. Rest in Peace. Natoish Dimaggio. Dimaggio Natoish.