James Richard Thomson
January 6, 1944 – October 1, 2016
James Richard Thomson, also known as Jim, Dad, and Grandpa Jim, was born January 6th, 1944 in San Diego, California. He passed away October 1, 2016 in the Palo Alto VA Hospital following a long and courageous medical battle.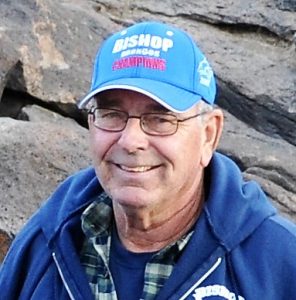 His family has peace in knowing Jim has no more pain and God has welcomed him to Heaven. He was preceded in death by his parents James and Anita and sisters Ann and Mary.
Jim is survived by a large and loving family including former wife and forever best friend Joyce Walker, son James Thomson and wife Janet, son Jeff Thomson and wife Tawni, son Jason Thomson and wife Paula. Jim treasured his grandchildren Schain, Corey and Jonithen Thomson, Brandon Abbott, Felicia McDonald and their families.
Jim will also be missed by niece Annette Barrett and her family, as well as many great friends and extended family members.
Jim was raised in San Diego, graduated from Hoover High School, then enlisted in the US Army. He served in the 3rd Armored Division in Germany from 1963-1966. Following military service, Jim worked as a crane operator for NASCO in the San Diego shipyards building Navy ships. Joyce and Jim started their family in San Diego, but decided to relocate to Bishop in 1979 so their sons would have safer, cleaner and more outdoor-adventure filled lives. Jim worked for Mammoth Mountain Ski Area and Clair Construction in Bishop.
His family was the most important thing to him and he made the most of every opportunity to watch his beloved kids and grandkids play softball, baseball, football, soccer and hockey. He never missed a play, awards ceremony, graduation or family birthday party. Jim loved camping with the entire family and a big group of friends at Diaz Lake every Memorial Day weekend.
Jim was a skilled mechanic, talented welder and an amazing "fixer" of all broken things. Jim really shined in the good old destruction derby days when he helped all three of his sons build winning cars. He was happiest when he could lend a hand, even fixing things for strangers or people he hardly knew.
Jim will be remembered for his surly sense of humor; if he teased you, it meant he really loved you. He'll also be remembered for his kindness; he cared deeply for others and loved to help. Jim will be remembered for his solid character and his unwavering spirit; he would never give up trying to solve a problem.
A celebration of life will be held for Jim's family and friends to gather on October 29, 2016, at the Masonic Hall on East Line Street in Bishop from 1:00 p.m. to 3:00 p.m. In lieu of flowers, please consider making a donation in Jim's memory to American Legion Post #118, P.O. Box 546, Bishop, CA 93515.