JAMES CAREY BRACKNEY 1932-2017
Jim as he was known by family and friends, went to be with the Lord November 12, 2017 at the age of 85.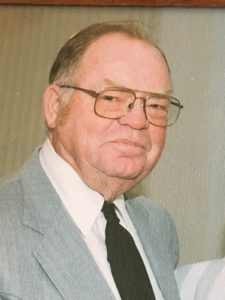 Jim was born on August 19, 1932 to Carey James Brackney and Mary Elizabeth (Clayton) Brackney in Fallon, Nevada.
Jim started working at the age of 13 driving trucks in the hay fields, this lead to  his love of driving. He spent his early adult years working in the mines, as an auto mechanic in Lone Pine, and driving truck for many different companies and eventually became an owner/operator of JCB Trucking.
Jim greatly enjoyed purchasing and restoring old cars. If he wasn't driving he was continually tinkering or repairing his own trucks. He was a great mechanic and was always ready and willing to assist family and friends with repairs needed on their cars.
Jim was predeceased by his mother Mary Elizabeth and his father Carey James, two  sisters,  a  stepson  and grandson.
He is survived by his brother Robert, wife Doris Brackney, 4 children & spouses, Rebecca Getty (Harv), Mary Suzanne Young (Aaron), Kerry Tonkin (Willey), Geoffrey Brackney (Karen), stepson Eric Reiser (Debbie), 9 grandchildren and 10 great grandchildren.
There will be no viewing.
Services will be held at 11:00 am on Saturday November 25th at the Lone Pine Church of the Nazarene at 235 N. Washington Street in Lone Pine.
There will be no graveside service.