James (Jim) Edward Arasim
James (Jim) Edward Arasim, age 85 of Big Pine, California, passed away Monday night, March 6, 2017 at Southern Inyo Hospital.  Jim was born January 7, 1932 to the late Vincent William Arasim and Praxeda (Walkowski) Arasim in Ironwood, Michigan.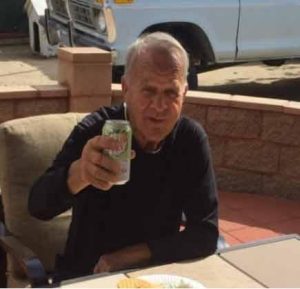 Upon graduation from high school, Jim enlisted in the Navy and served in the Korean War.  After his discharge in 1955, he met Betty Ann Rondeau and they married in 1957 in Ironwood, Michigan. Jim graduated from Michigan Technology University with a Bachelor of Science degree in Forestry.
He had a lifelong career with the US Forest Service starting in the 1960s until he retired in the 1980s.  Jim worked on the Klamath and Inyo National Forests in California.  During his career, he worked in timber management and also as a District Ranger on both forests.  Jim loved the outdoors and spent his retirement enjoying the Eastern Sierras.
Jim is survived by his wife of 59 years, Betty Ann Arasim; along with three children; Steve and Cheryl Arasim of Hamilton, Montana, Camille and Jaime Cervantes of Lone Pine, California, and Teresa and Patrick Hrubes of Fairbanks, Alaska; grandchildren; Marina (Cervantes) and Rick Stockton, James (Mito) and Kristina Cervantes, Matt and Holly Arasim, Alexandra Arasim and Melody Hrubes; four great-grandchildren; Gehrig Cervantes, Grady Cervantes, Camille Stockton, Ryker Arasim, and step- great-grandchild Kaylee Allen-Stockton.
Besides his parents, Jim was preceded in death by his brother Leonard and sisters, Dolores Ludlow and Mary Soltis.
A private service will be held at a later date.  Memorial donations in Jim's name may be made to the Southern Inyo Hospital Skilled Nursing, PO Box 1009 Lone Pine, California 93545.