Los Angeles Times sports writer Jerry Crowe knows how to find remarkable people and tell their stories. This week, he found Jill Kinmont Boothe. The headline under his column "Crowe's Nest" was "Skier never slowed down after paralyzing accident."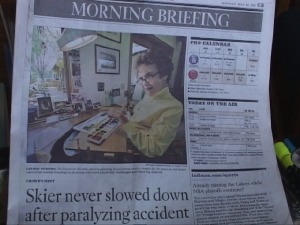 In the Eastern Sierra Jill is our neighbor and also a celebrity. We know that she had never slowed down. Crowe describes Boothe as 75 and a dedicated teacher and painter. The story goes back to 1955 and describes 18-year-old Jill as pretty with Olympic ski potential. Then came the crash in a race at Alta, Utah, where she suffered a broken neck and severe spinal cord damage, leaving her a paraplegic. Two feature films documented her life and remarkable character.
The story tells of Boothe's wish to run a ski shop in Mammoth Lakes where she had learned to ski. Instead, she became a teacher. The Times article quotes George Lozito who had worked with Boothe. He said that in the latter part of her 35-year career, Boothe taught physically challenged and learning disabled kids. He called her a "matriarchal leader."
The Crowe's Nest column on Jill ran in the Monday edition of the Times.