Jesse Ray Smith, born September 1, 1931, passed away peacefully surrounded by family on Friday, December 6, 2013.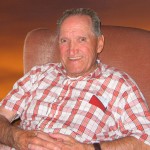 Born in Wewoka Oklahoma, Jesse served bravely in the Army during the Korean War. In 1964, while working at Helms Bakery, he met Jeanne St Pierre and on February 13, 1965 they were married.
He lived in Big Pine and owned and operated Mammoth Liquor from 1978 until retiring in 2004.
Jesse will be especially remembered for his thirst of adventure in the Sierras Mountains, his enjoyment of hiking, fishing and hunting, but most importantly for his love of his family
Jesse is survived by his devoted wife Jeanne Smith, his children Raedean Rona, Jesse R Smith Jr., and Tracy Pavon, his adopted daughter Kimberly Colvin, his grandchildren Nicholas Aguirre, Natalie Smith, Tyler Pavon, Hannah Smith, Tori Pavon, Rhys Pavon, and his sisters Hazel Love and Nila Martin.
Jesse will be resting at the Riverside National Cemetery, services will be private.
Thanks to Dr. Brown and the staff at the Rural Health Clinic, Northern Inyo Hospital, and Bishop Care Center for their help and support.