ADOLPH GERALD (JERRY) FIELDS
Passed away peacefully at home on
February 15, 2017 in Bishop
Jerry was born in San Diego, California, to the late Al and Edith Fields, on January 24, 1929.  He spent his childhood and youth in Los Angeles, and graduated from John H. Francis Polytechnic High School.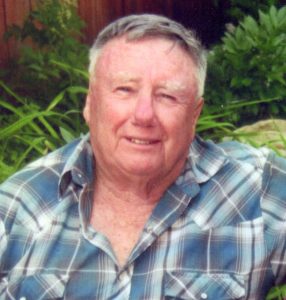 Jerry served honorably in the U.S. Navy as an aircraft mechanic on the U.S.S. Valley Forge.  Following his naval service, he graduated from Los Angeles Trade Technical Junior College.  He retired from his 32 year career as a steamfitter for the City and County of Los Angeles in 1982.  Early in his career, he met the love of his life and married Clara Mae O'Cano.
Jerry enjoyed spending time with his family.  They fondly remember him as a mountain man, enthusiastically sharing his love for the outdoors with his wife, children, and grandchildren.  After years of vacationing in the Eastern Sierra, Jerry and Clara returned to Clara's childhood home of Bishop, where he resided for 35 years. Clara and Jerry enjoyed their retirement, hiking, hunting, and fishing the mountains of the Owens Valley.
Jerry is survived by his two daughters: Judy Fields and Holly Rossi, his son-in-law, Chance Rossi, along with his four grandchildren: Jazmin, Logan, Cierra, and Tara, Rossi, all of Bishop. He is also survived by his sister, Carol Shepard, of Huntington Beach.
Jerry was preceded in death by his dear wife, Clara Mae Fields, and his brother, Ronald Fields, of Reno, Nevada.
A Celebration of Life will be held at a later date in the summer.