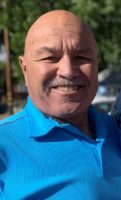 Born September 3, 1957, Jeffrey Lynn Bardonnex went to his eternal home on January 17, 2022. Services will be held Saturday February 12th, 2022, with a potluck reception to follow at the Bishop Seventh Day Adventist Church.
Jeff was born and raised in Bishop, Ca. Jeff went to Bishop High, worked for Smart & Final, El Charro Avita, Kmart and Caltrans as a construction technician. Jeff was known by many people in the community because of his years in public jobs. Jeff was a charismatic, loving, kind, and a caring man. He loved to joke and pull jokes on people. Jeff knew no strangers. He loved to bbq and have family gatherings. Jeff opened his home up to many a stray and was willing to help anyone. He always had a friendly smile for everyone. He loved to watch his grandkids' sporting events and garden every spring.
Jeff was on dialysis for the last 8 years and was an advocate for people with renal failure, he shared his story with people who asked, he did not let dialysis hold him back in life. Jeff's faith in the lord was unwavering and he knew that heaven was beautiful.
Jeff was proceeded in death by his mother Mary, grandson Tyler, grandparents Leroy, Noreen, Audrey and Ed. Jeff is survived by his wife of 25 years Noel, Parents Pat (Francine) Henry, Father and Mother in Laws Steve (Debbie) Blair and Vickie Henneberger, Grandfather Earl Moyer, Children Brandon (Katie) Bardonnex, Dylan Bardonnex, Candice (Jordan) Drew and Harlee Bardonnex, Grandchildren Bailey, Kelsy, Brodie, Jase, Jameson, and Josie, Brothers and Brothers in laws Gary (Lora) Bardonnex, Steve (Nikki) Bardonnex, Rob Henry, Jeramy Blair, Michael (Janel) Holmes, Richard (Amanda) Holmes, Sisters and Sister in law Christi, Sharon (Ed) Lynn, Pat (Bill) Spriggs, Kathy (Jaime) Odeneal, and Keri Holmes. As well as many nieces, nephews, cousins and adopted children.
In lieu of flowers please make donations to the Bishop Seventh Day Adventist Church.