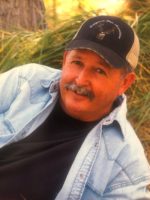 Jeffery Keith Galvin, age 67, died unexpectedly on August 10th, 2022. High in the beautiful White Mountains, Jeff took his final breath overlooking beautiful Bishop and his family below. Long rooted in the Owens Valley, Jeff took great pride in the Galvin family's deep heritage. He was proud his grandchildren were fifth generation to the valley and when asked, he couldn't imagine life anywhere else.
Born on July 14 th 1955 to Herbert and Dolores Galvin, Jeff was the youngest of their two children. He grew up in Benton where he first learned to hunt and fish and it was there, his love of the White Mountains first took root. He attended school at Edna Beaman until the start of high school, where he transitioned to Bishop Union High School (BUHS). It was during these 4 years; Jeff built the foundation of lifelong friendships that he greatly treasured. These friendships became the cornerstone of his life, as decades worth of memories were centered around this special group of individuals. Jeff graduated from BUHS in June of 1973.
On September 11 th of that same year, Jeff had his first date with Christy Courtney. By June of 1974 he proposed to Christy on her high school graduation night. They wed October 26 th , 1974 in Bishop. This October would have marked 48 years of love and commitment to one another.
In 1976 Jeff started work for the Operating Engineers (Local Chapter 12). It was at this time Jeff and Christy started their family. First welcoming their oldest child Chad in October of 1977, followed by Wendy in August of 1979. Jeff loved his children immensely and found great joy in their many accomplishments. Jeff proved to be a father figure to many, as his children's friends sought refuge in his home. He loved being the "hang out house" during those years and you could always find him in the middle of all the action!
Together, Jeff and Christy started Jeff Galvin Landscaping in early 1985, which he owned and operated for the last 37 years. Jeff ran his business with a great deal of integrity. He was honest, brutally direct, and worked with a level of detail and perfectionism most could not understand. He was an incredible operator, valued for his precision and accuracy. His customers greatly appreciated and valued his work ethic, knowing the job would always be done right. Jeff donated his time and talents to many community projects throughout the years.
There were few things Jeff loved more than the mountains and deer hunting. A local legend in his own right, Jeff had the skill set and incredible patience to hold out for only the best bucks. The mountains to the east he knew better than most, as he spent a lifetime in them. The sacred traditions of hunting he learned in those mountains; he instilled in the ones he cherished the most.
Jeff was a stark traditionalist.  He never missed an opener on Crowley, the Mule Day's parade, camping in Belmont in the Spring or Male Bonding in July. Jeff loved fishing, the voice of Vince Scully and all things Dodgers and Rams. He was never afraid of a good time, the dance floor, or a cold Coors Light. He was friends to so many, all of which cherished his quick wit and loved his one of kind smirk.
Jeff is proceeded in death by his father Herb Galvin, stepfather Bud Walkington, sister Denise Cafe', and nephew Dominic Galvin. He is survived by his mother Dolores Walkington, wife Christy, son Chad and wife Katie Galvin, daughter Wendy and husband Nate Derr. Lastly, he is survived by his five
grandchildren; Levi, Tatum, Taylor Derr, Leah, and Walker Galvin, who he loved with his whole heart.
A celebration of life is scheduled for September 10 th 2022, at 1pm at the VFW Post 484 Short Street in Bishop. Tri-tip lunch to be served. Please bring a favorite salad or side dish to share.