Jason Alan Bullington
October 8, 1969-May 25, 2019
On Saturday, May 25th 2019 Jason Alan Bullington, loving husband, passed away at home at the age of 49 after a long battle with cancer. His wife Lena and his friends were by his side.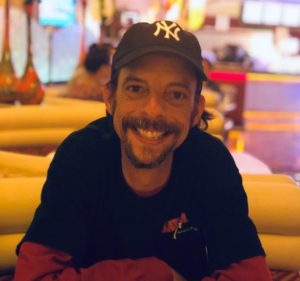 Jason was born in Los Angeles on October 8th, 1969 to Rosalie Gottlieb and Edward Nelson Bullington. In 1986 the family moved to Bridgeport, CA and Jason attended and graduated from Coleville High school in 1988.
He then worked construction for a few years. When he was 22 he got a job at BUMCO (changed the name to Rhinos in 1993) and continued working there as a bartender and a cook on and off for over 20 years. He learned to butcher meat working several years at Busters Market in Bridgeport.
Making great food has always been Jason's passion and in April of 2012 he opened his own restaurant J's on the Corner, which quickly gained popularity with locals and tourists alike.
After three successful years Jason closed J's and went back to bartending and cooking. However, having a business of his own always appealed to Jason and in spring of 2017 he bought Albert's Meat Market and Deli and had worked there up until just a few weeks before his passing.
Jason married Lena Melnik on February 2nd 2017 in a small ceremony at the Bridgeport Courthouse.
Jason has always been known for his great sense of humor, hard work, love for baseball ( go Yankees!) and amazing knowledge of all things sports. He loved rock music, was a gifted drummer, adored all animals, especially dogs.
Jason was the kindest, funniest and most selfless man. He loved life and fought so hard to overcome his disease before succumbing to it.
Jason is preceded in death by his mom Rosalie and survived by his wife Lena, his three dogs that he adored, and countless friends.
The family would like to extend special gratitude to doctors, nurses and staff at Gene Upshaw Cancer Center in Truckee where Jason had been receiving treatment for years.
Jason's celebration of life BBQ will be held on Saturday, June 8th, at 4 pm in front of Albert's in Bridgeport.