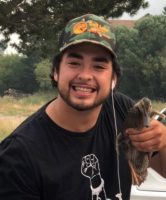 Noah Fogg age 22, resident of Mono County, for 4 years, born on July 19,1999 passed away December 5, 2021.
Noah had a profound love for his family, music and fashion. He was the brightest, funniest person in the room. When we think of Noah, we immediately remember his extremely caring heart and hilarious wit. To have Noah in our lives, we were blessed. If you ever needed a laugh or a good friend by your side, Noah was there. Noah was always there to share his charismatic charm and infectious smile. He had a smile that made you smile and his laugh was contagious.  He will be deeply missed by his family, friends, and all who knew him.
Noah is survived by his mother April Ortega, Bonus Mom, Melissa Fogg.
His sister and brother in law Andrew & Emily Walker
Brother Jonah Fogg and sister Abigail Fogg
His niece and nephew June and Luciano Garnica
His grandparents, Pat Berger,Frank and Robin Cassidy, George and Donna Fogg, Tim and Pauline Pollock.
Funeral Services will be held Jan 8th, 2022 at 11am.
The Home Church located at 11451 West Lane Lodi, CA
Officiated by: Dr. Tim Pollock