Jane Ann Hackett Andreas was born on January 1, 1935 in Lone Pine, CA to Alex and Effie Hackett. Jane passed away on August 14, 2016 in her home surrounded by her loved ones.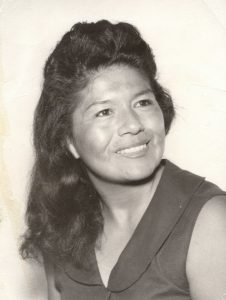 Jane grew up in Lone Pine where she spent most of her time with her grandma and grandpa. She also enjoyed roller-skating thru town with her sisters and going to the movies.
Then around the time she was 18 she met the love of her life Donald "Dan" Andreas. Jane moved to Red Hill with him where they built their home and started their family.
Together they had 7 children, 8 total including the son she already had.
Jane loved taking care of her family and enjoyed attending their sporting events and any other activities they participated in. Jane also shared a love of gambling and traveling to Nevada with her husband and other times she went with her sister Vivian or her sister in law Mary. She was also a frequent visitor of the Paiute Palace Casino.
Jane was such a hard worker. She held jobs at Schats Bakery, housekeeping then she went on to work as environmental services at Northern Inyo Hospital where she retired from, but not for long.
Retirement and Jane didn't go together so she went back to work doing housekeeping and laundry at the Bishop Care Center.
Jane was quite the family woman. She enjoyed celebrating holidays, birthdays, milestones and visits from her family. Her grandchildren meant the world to her. Anyone that sat and talked with her was told all about the achievements of her family. She was always proud of anything they did.
Jane touched the hearts of everyone she knew. She will be greatly missed.
Jane was preceded in death by her husband Donald "Dan" Andreas, daughter Annette Andreas, son Daniel Andreas, and granddaughters Amy and Carol Stone. Jane was survived by son Ed Esteves  (Sharkie), daughter Janet Stone (Luke), son Darrell Andreas, son Merrell Andreas, daughter Lillian Bowman and son Willy Andreas. Grandchildren DeShawn Esteves, Dan "Boonie" Stone (Carlie), Mary Stone, Crystal Andreas, Donald Andreas, Kylee Smoker, Rainy Smoker, Dan "Hawk" Andreas, Paul Andreas  (Patricia), Barbara Bowman, Alex Andreas, Willo Alford (Bobby), Shaunee Andreas, Courtney Taylor, Willie Taylor, Austin Andreas and her sister Irene Button.
Services held August 18, 2016 at 11 am at Brune Mortuary. Internment at Sunland Indian Cemetery with a luncheon following at the Barlow Lane Gym. A traditional crydance held August 17, 2016 at dusk at 640 Winuba Lane.