James K. Wilson (June 22, 1948 – Jul 15, 2015)
Founder of Eastside Sports dies of stroke at age of 67
By Charles James
The following posted description of James Wilson was found on the website Supertopo.com.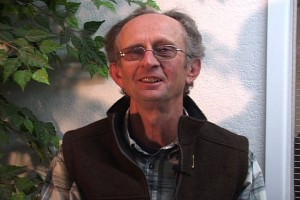 "James was, quite simply, one of the coolest guys I ever knew. He had a serious appearance, like a college professor, but that belied his hidden, playful inner self." –AMB, Climber, CA
It was an apt description of a man that many have described as "funny," "gentle," "soft-spoken," "kind," "generous," "humble," and "wise."
During a brief talk at the 2015 Owens Lake Bird Festival in April, Wilson reminded those attending that "Life is short." Bird Festival-goers little suspected at that time just how sadly true those words would become just three months later.
The shock and dismay following his untimely death a few weeks ago at the age of only 67 from a stroke are echoed throughout the environmental and climbing community as messages of condolence and grief, coupled with stories and photographs of James Wilson's life are posted on his Facebook page and on a special memorial website in his honor, www.forevermissed.com/james-kepler-wilson.
Wilson moved to Bishop in 1977 with his wife Kay and opened Eastside Sports.  He was a visionary who saw the need for a local shop to provide outdoor equipment and clothing whether camping, hiking, mountain biking, backpacking, or climbing. James and Kay sold the business in 2012.
James was a co-founding member of Friends of the Inyo, established in 1986 and he was very active in many environmental and civic groups, often speaking at public meetings expressing his concerns for wildlife and the environment. While an avid outdoorsman, birding was his passion and he belonged to the Eastern Sierra Audubon Society, which he helped found in 1983. Their website also features many fond memories and appreciation of his of his life. . He was also a businessman and was active in the Bishop Rotary and Chamber of Commerce.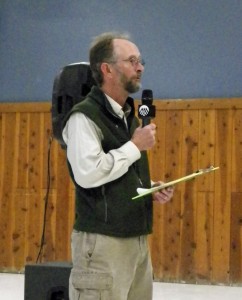 James leaves behind his wife, Kay, daughter, Roseanne, son-in-law, Bay, and grandson, Ansel.
A memorial service is planned in Wilson's honor for Sunday, August 2 from 4:00 pm to 8:00 pm at the Mono Lake County Park. Those celebrating James Wilson's life are asked to bring potluck food of their choice and drink, along with their own plates, cups and eating utensils. Visit www.forevermissed.com/james-kepler-wilson/ for more information.