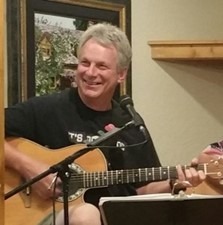 James "Jim" Boyd Lambert, 67, of Chalfant Valley, passed away peacefully in his home on the morning of March 9th, 2021 after a long battle with cancer.
Jim was born in Blythe, California on February 7th, 1954 to James Robert Lambert, Jr. and his wife Maveline.  In 1979, Jim moved up to the Owens Valley, where he worked at Napa Auto Parts in Bishop and Mammoth for many years.  While living in Crowley, Jim also volunteered with the Long Valley Fire Department as a Firefighter and EMT/B.  In 2006, Jim left Napa Auto Parts to work for Britt's Diesel and Automotive in Laws as their Parts Technician and moved to Chalfant Valley.  He was always particularly grateful for the support of Britt and Karolyn Nelson, as well as Cristy Crawford and her husband Cecil, and the entire crew at Britt's for their companionship in both his professional and personal life over the years.
While he worked selling auto parts, Jim's passion was always his music.  Jim was an avid guitar player, and many of his fondest memories come from creating music throughout the Owens Valley.  While Jim touched countless lives throughout the valley, he wished to extend a special thanks to Tom and Eileen Gault, as well as the rest of the band, "Flashback," Margie and Bob Steele along with the members of "Sax 5th Avenue," Paul Rose, Derik Olson, Rob and Kymberlee Nalumaluhia along with the rest of the band "Halfway to Benton," for the cherished memories and wonderful music they were able to share over the decades.  Further, he extends his gratitude to Mark and Michelle Layne, owners of Toms Place, as well as Denise Domaille-Molnar and Dennis Domaille of the Mobil Mart in Lee Vining, as well as the numerous other venues, for providing great space where he was able to play his music.
Jim is survived by his wife, Lina Lambert, of Chalfant Valley, his daughter, Jamie Chapman and her husband, Logan, of Willows, California, his son, David Lambert and his fiancé Meghan, of Bangor, Maine, and his granddaughter, Kennedy Chapman, of Willows, California, his stepdaughter, Amanda Myers of Arcata, California and stepson Spencer Myers of Los Angeles, as well as the countless other friends and loved ones he touched throughout his life.
A celebration of life will be scheduled for later on in the summer.  In lieu of flowers, donations can be made on Jim's behalf supporting local businesses, the local music societies, firefighter/search & rescue organizations, or the tip jars of any live musicians, or a donation of blood can be made in Jim's honor to continue the gift of life.