Jacaline J. "Jackie" Pollett passed away Friday, Sept. 4, 2015 after a sudden illness. A memorial service for Jackie was held Sunday, Sept. 20, 1 p.m. at the Veterans of Foreign Wars Post 8988, with Dee Dee Costello and the VFW members officiating.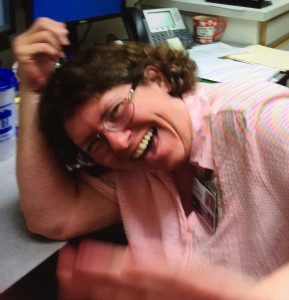 Jackie was born in Bishop on September 16, 1958 to Thomas and Mildred Pollett. She had two siblings, Duane Hilton and Terry Pollett.
After graduating from Bishop Union High School in 1977, Jackie briefly moved to Arizona with her parents and attended Taft College before returning to Bishop. She began a career in health care support, first working in billing for radiologist Dr. Wilfred Wells, MD, from 1987 until Dr. Wells retired in 1999; and then working at Northern Inyo Hospital for the past 16 years. Most recently, Jackie served as the Administrative Assistant for the hospital's Performance Excellence office.
A kind woman with a big heart, Jackie was known among the hospital staff as the "Candy Lady," for the large dish of treats she kept on her the corner of her desk. Anyone was welcome to take a piece, and they often did, becoming acquaintances with Jackie in the process. Jackie was truly one of the last great listeners in this world, who would be reserved and respectful, but would signal just how she really felt with the subtle arching of her eyebrows.
Those closest to Jackie say she was a true philanthropist, often donating her time and money to charities she loved and never expecting any praise or notoriety in return. She was dedicated to animals, especially cats. She lavished love and attention on cats in need of a home, often finding a way to make her home their home. Five such pets survive Jackie. She was also a friend to the local veterans organizations, a voracious reader, a crochet enthusiast and an avid crystal and gem collector. A very private woman, she had an easy laugh and a quick smile for those she brought into her life.
She is survived by her brother and sister-in-law, Duane and Jan Hilton; her sister, Terry; and her friends at Northern Inyo Hospital.
Those wishing to remember Jackie are encouraged to make a donation in her honor to either Inyo/Mono County Animal Resources & Education (ICARE), P.O. Box 76, Bishop, CA 93515,
www.icareforpets.org; or, to the Veterans of Foreign Wars, Post 8988, 484 Short Street, Bishop, CA 93514.