Jack Joseph Yaeger was called to be with his heavenly Father on September 14, 2015. Jack was a loving husband, father, grandfather, great-grand father and friend to many in the Bishop community. Born July 8, 1925, in Buffalo, New York, to Joe and Theresa Yaeger, Jack spent the last 23 years living in Bishop with Mary, his loving wife of 55 years.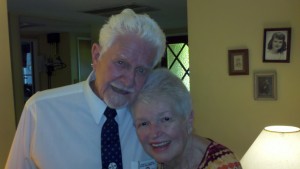 Jack's children, daughter Julie Smith of Los Gatos, son Philip Yaeger of Costa Mesa, daughter Jackie Robinson of Bishop, daughter Mary Houghtaling of Crowley Lake, and daughter Jeanne Woo of Mammoth Lakes celebrated his 90th Birthday just this year. Also joining in the celebration were Jack's 2 sons-in-law, a daughter in-law, 6 grandchildren, a great grandson, his sisters Marge and Shirley and their husbands from Buffalo, a niece from Chicago, and many local friends.
Jack loved to give of his time to his many favorite organizations in the Bishop community. He was an active member of the Knights of Columbus, Lion's Club, and his beloved Our Lady of Perpetual Help Catholic Church. You could find Jack selling tootsie-rolls in front of Manor Market or Vons, selling hot dogs at the fair, picking up trash along 395, securing sponsorships from local vendors, and greeting members each week at church.
Jack also spent many hours on the fairways at Bishop County Club and fishing the many lakes, streams and along the banks of the Owens River. Whether with his wife Mary, or children and grandchildren, he loved to share his joy and respect for the Eastern Sierra's. Jack also enjoyed painting, singing and playing musical instruments, gardening, and spending time with his dog Trixie in his lap.
Anyone who had the chance of meeting Jack could feel they had run into an old friend. Jack's love for people was immense. No matter if you were the hostess, the wait staff, or the busser, Jack would make sure he engaged with everyone. The only strangers to Jack were the people he had not yet personally met.
The Yaeger, Smith, Robinson, Houghtaling, Woo families are so thankful for the opportunity to have met so many in the community through Jack. We are also so very grateful to the many friends who loved Jack and made his life here in Bishop so special.
Services will be held on Monday, September 21st 11am at Our Lady of Perpetual Help church in Bishop. A reception will immediately follow in the church hall.