31st Annual
KIDS FISHING FESTIVAL
Saturday, July 28th, 2018- 8am-1pm • SnowCreek Ponds on Old Mammoth Road, Mammoth Lakes
(Press information) The 31st Annual KIDS FISHING FESTIVAL will be held July 28th, 2018, from 8am to 1pm at the SnowCreek Ponds on Old Mammoth Road in the resort town of Mammoth Lakes, California.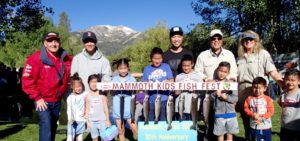 Plenty of huge trophy trout from Desert Springs Trout Farm will be stocked in these beautiful High Sierra ponds with Mammoth Mountain forming a picturesque backdrop. This popular event is FREE for kids 14 and under and will run from 8am to 1pm. Rods and reels are provided, or you can bring your own. Come later, receive more individual attention from our guides, and have lunch. Our fish keep biting all day long!
Fisheries staff from the California Department of Fish and Wildlife (DFW) will be available to lend a hand and teach children a little about California's trout fisheries. Every child will receive their own California Fishing Passport and fish identification book. Catch a fish and get special passport stamps in your book! A beautiful trout aquarium, provided by Hot Creek Hatchery, will be on display and loaded with enormous trout..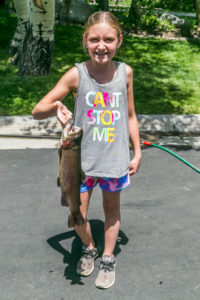 Kids will receive information on the life of a hatchery trout along with a special coloring book and a junior fishing license. DFW is also bringing their popular "Fishing in the City" Program to teach kids about the joys of fishing. These wonderful volunteers will bring loaner rods and reels and teach casting techniques. Our regional Game Wardens will be on hand to answer questions about becoming a warden and they will be bringing their Recruitment Trailer which is filled with taxidermied California fish, birds and animals. Kids can practice their shooting techniques in the laser shot booth attached to the trailer. The US Forest Service is bringing Smokey the Bear and his assistants to educate kids about fire safety.
Fishing guides from the Eastern Sierra and Aguabonita FlyFishing Club in Ridgecrest will also be available to help and instruct. Aguabonita is catching the pond's aquatic insects and bringing microscopes so the kids can learn about entomology and the food sources for trout.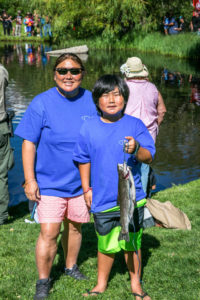 There will also be fly tying lessons so the kids can make a fly, put it on their rods, practice fly casting with our expert guides, and then catch a trout! There is complimentary fish cleaning available so you can take home your trout and have it for dinner.  This year marks the 30th Anniversary of Berkley/Pure Fishing. For many years these dedicated volunteers have donated Power Bait and brought guides to help teach kids and their parents learn to fish. If you can't catch a fish, the Berkley Boys are here to make sure you land a beauty.
This year our new sponsor is Mammoth Lakes Rotary Club. We are very pleased to have a local community service organization willing to help continue this 30 year tradition of teaching children how to fish. Mammoth Lakes Lions Club offers FREE donuts, coffee, and juice.
This is a family weekend in Mammoth not to be missed. Mammoth is presenting 3 FREE family festivals! Sunday is kids day at the Firemen's Picnic at Shady Rest Park from 11am-4pm.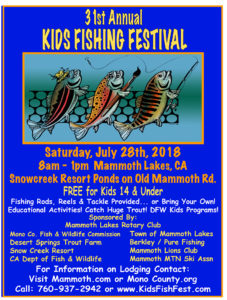 VillageFest has California's highest Rib and Chili cook-off, live music all 3 days, a beer garden, and plenty of fun activities for all ages, plus a crawdad boil! Facebook.com/mammothvillagefest.
The Kids Fishing Festival is also sponsored by Berkley/Pure Fishing who bring lots of experienced guides, more loaner rods & reels and free gear. Additional funding comes from the Mono County Fisheries Commission and the Town of Mammoth Lakes. For more information, call Gaye at (760)937-2942.  For lodging info, MonoCounty.org and VisitMammoth.com.