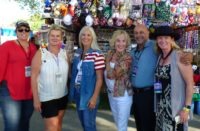 The Thursday afternoon acknowledgement of the Coso Energy Stage marked the start of the four-day Tri-County Fairgrounds event, jam packed with livestock, music, food, strolling musicians and the Fellini-esque Animal Conspiracy featuring a very tall, dancing creature. As the Fair for Inyo, Mono and Alpine counties, the event truly represents the eclectic, rural, hip and homey nature of all three entities.
Officials from Coso Operating Company, Chris Ellis, vice president and general manager, and Julie Faber, public relations officer, were introduced by Jen McGuire, the Fairgrounds chief executive officer. Additional acknowledgements went to sponsors, the Bishop Chamber of Commerce, Fairgrounds Board Members, and Jason Brown of Laughing Parrot Productions.
The Fair has always been fun, but under McGuire, the event has pushed all the limits beyond the traditional country fair concept. This year was to include Randy Houser but he got sick and was quickly replaced with Tyler Rich (Friday), a Bruno Mars tribute band was on stage Thursday evening. A Foreigner tribute band concert will be held Saturday night and the spectacular Bishop Volunteer Fire Department Demolition Derby on Sunday at 7 p.m. This year's agenda includes a BMX stunt show, pig races, horse shows every morning starting at 8 a.m., puppets, pine wood derby races, unlimited food and on and on
Okay, the weather chose this weekend to break heat records. No worries, there's a special
cooling area to help beat the heat as well as the Cardinal Village Family Zone and Bounce
Houses in the Charles Brown building.
There's not enough space or time to list all the events and culinary opportunities. Locals should just show up, pick-up the schedule and try to figure out how many events you can hit, how much food you can eat and how many strolling jugglers, flaming violins and chicken riders you can spot. No worries about over doing it—Monday is a holiday.
Bon appetite.