– Press release
TENTH ANNUAL INTERNATIONALLY ACCLAIMED INDEPENDENCE FRUITCAKE FESTIVAL
"SATURDAY NIGHT FRUITCAKE FEVER"
Come to Independence on December 13th for a Disco-themed party honoring the venerable and timeless fruitcake.  Disco balls, chest hair and gold chains will be there in abundance, along with delicious eggnogs and fruitcake.  The possibilities are endless for creating a winning fruitcake.  Categories include oldest, travelled the farthest, best of theme, most solids, and judges' award.  Our fruitcake judges employ mechanical, empirical and philosophical techniques to select winning fruitcakes in those categories.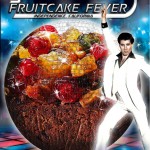 This year we are adding the "fruitcake strut."  Write up a little blurb about your fruitcake and you and your fruitcake will have the mic to show your stuff.   This is undoubtedly the only beauty pageant for fruitcakes in the world and, quite possibly, the universe.
Most people participate by wearing theme-oriented costumes.  This is not required, but in the past we have found that a good many people like to dress up more than their fruitcakes.  The Costume Contest is just the place to show off your creativity and the "Best Costume" prize is awarded to the person with the loudest applause.
There will be live music with Sandy and the High Country playing their repertoire of Disco music.  There will be dance instruction, so get those dancing shoes on and learn the hustle and the slide.  If leaded eggnog isn't your style, coffee is available at the bar to boost your energy.
No need to eat dinner before you come.  Jenny's café will be offering a main dish, with the proceeds going to help support the Mt. Whitney Fish Hatchery.
This is the only "internationally" acclaimed Fruitcake Festival.  Such venerable periodicals as the Washington Times, Country Living Magazine, and, of course, NPR have written us up.
This is a FREE event with the caveat that you must bring a fruitcake or eggnog to gain entrance to the Festival.  Homemade fruitcake or eggnog is preferred.  The eggnog can be transported to the festival in a milk jug.  Please label it as "leaded" or "unleaded." We have refrigeration on site.  The eggnog is always served in elegant punch cups at the bar.  It is worth the trip to Independence just for that fact alone.
Location:  Legion Hall, Independence, CA
Date/Time   Dec. 13, 2014   —  6 PM
Call 760-878-2046 or email [email protected] for more information