It's known as the "Party of  the Year" – it's Disabled Sports Eastern Sierra's Island Extravaganza.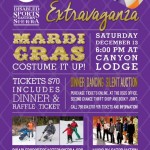 Help support this wonderful local organization by attending the Mardi Gras event or purchasing raffle tickets.
After some great skiing and riding at Mammoth Mountain or June Mountain on Saturday, fun times can be had Saturday at Canyon Lodge. Doors open at 6 p.m.
For more information, disabledsportseasternsierra.org