Press release
There's a "Pioneer Party" coming to the Mammoth Museum at Hayden Cabin on August 20, 2016 with Bluegrass music from local favorites "Bodie 601", food vendors, dancing and a cash bar. The new "Temple of Folly" tent on the museum grounds will be inaugurated as alpenglow settles on the Sherwins and the big August moon rises.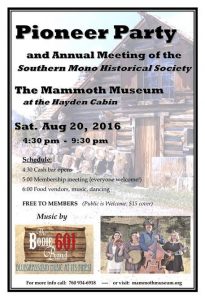 Formerly the "Old Timers Day & BBQ," the Pioneer Party will combine an evening of fun with the Southern Mono Historical Society's (SMHS) annual general membership meeting. Festivities start at 4:30 p.m. when beverage service begins, then an update on exciting new projects will be provided by the board of SMHS  (everyone welcome!). Food vendors will start serving at 6:00 p.m. and music begins at 6:30 p.m.
The party is FREE to members of the Historical Society (don't forget to renew this month for 2016-2017!), but there will be a $15 cover charge for the general public.  If you're not a member, you can join online at http://mammothmuseum.org/memberships/ before the event to gain free entry.
Join us for this entertaining evening along Mammoth Creek.  Dance to the Bluegrass music of "Bodie 601" and help celebrate old times and new friends.  For more information, call 760 934-6918 or visit  http://mammothmuseum.org/events-2/ .
See you there!
Your friends at the Southern Mono Historical Society