Disabled Sports Eastern Sierra helps many people enjoy the ski slopes through special training and individual help. The program sponsored wounded veterans – the Wounded Warriors – in several events.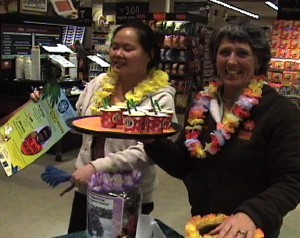 Every year, Disabled Sports holds a fundraiser which helps make the program work. It's called Island Extravaganza. This year marks the 7th fundraiser. Kathy Copeland urged anyone interested to buy raffle tickets at the Booky Joint, Vons or the DSES office at Mammoth Mountain.
Copeland and others continue to offer raffle tickets at Vons and elsewhere. That's one of the features of the fundraiser set for December 7th. The winner will have a trip to Hawaii for two.
For more info call 934-0791.