When deer season opened here on Saturday, the Department of Fish and Wildlife sent about a dozen additional wardens from places like Stockton and San Bernardino to the Eastern Sierra. On their way home Monday, the wardens staged a checkpoint south of Bishop to detect anyone who might have violated hunting or fishing laws.
The Lieutenant on scene, William Dailey, who is local, called the operation "the biggest bang for the buck". Citizens who contacted Sierra Wave called it a waste of tax dollars and an invasion of privacy. Lieutenant Dailey said the wardens stopped and screened every southbound vehicle except semi-trucks – more than 2,000 of them. He said wardens asked the driver if they had been hunting or fishing. If they said yes, they were asked to go up to an area off the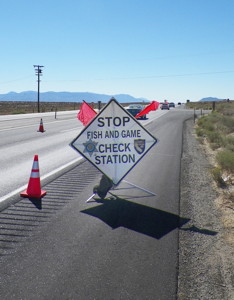 highway where Lt. Dailey said wardens asked for consent to search the vehicle.
Wardens were looking for illegal game and over limits of fish. They also checked to make sure guns were not loaded. Dailey said this kind of operation "deters poaching." He said, "One of these checkpoints does more good than 1,000 patrols. Word will travel." Dailey said the Eastern Sierra does have problems with poaching and over limits.
To questions about the legality of searching vehicles without warrants, Lt. Dailey said there is case law and federal and state codes which allow such searches. Said Dailey, "We're not looking for drugs or other things. We ask for consent to search and look for illegal game, over limits, and loaded guns."
In an earlier press release, Fish and Wildlife said the checkpoint was conducted to "protect and conserve fish and wildlife, to encourage safety and sportsmanship by promoting voluntary compliance with laws, rules and regulations through education." The release also said all anglers and hunters would be required to stop and submit to an inspection.