Irwin T. Moose referred to as "Er" by his siblings, "Dad" by his daughters and "Todd" to his friends passed away on Tuesday, January 10, 2017 in Big Pine, California with Family and close friends by his side.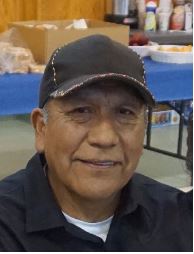 Irwin was born on September 4, 1959 at Northern Inyo Hospital to Bertha and Nelson Moose and is the fifth child out of seven, raised in Bishop and Big Pine California. He resided in Bishop for the majority of his life and is a citizen of the Bishop Paiute Tribe. He attended Bishop Union High School and later attended Kicking Horse Job Corps with Brother Dean Moose in Ronan Montana, then on to Fire Fighters School in Moses Lake, Washington.
As a young man, Irwin was employed as a Hotshot firefighter in Pinehurst California. Irwin was also an excellent commercial painter and enjoyed painting family and friends homes. He was a master at cutting and collecting firewood for family and friends. Irwin put others before his own needs. Irwin also worked in various jobs for Bishop Paiute Tribe and Big Pine Paiute Tribe. The work that Irwin enjoyed the most was helping gather firewood and preparing for the cold winter months. His Father and siblings were instrumental in the belief that you first took care of family first or as Irwin would say "Familia".
Irwin was a great artist who loved to draw, enjoyed fishing, hunting. He really enjoyed spending time with family and friends. Irwin enjoyed playing sports, but especially playing fast pitch softball with his brothers and close friends and sipping a "cold ones".
Irwin was blessed with a large and loving family. He leaves behind daughters Ann Moose and Annisa Moose and grandson Noah Erickson and expected new grandchild yet to arrive, numerous nieces and nephews, cousins. He is survived by siblings Roseanne Moose, Gaylene Moose and Dave Moose. He is now united with his parents Bertha and Nelson Moose, brothers George Moose, Darrel Moose and Dean Moose and Grandparents and other family members.
A Cry Dance will take place on January 15, 2017 at 8 PM at 266 Brockman Lane, Bishop CA. Funeral Service will be Monday, January 16, 2017 at 10 AM at Brune Mortuary, Bishop CA and laid to rest at Crocker Street Cemetery in Big Pine CA. A luncheon will follow at the Alan Spoonhunter Memorial Gymnasium in Big Pine, CA.
i