Irmgard "Kitty" Wilder 1933-2018
Irmgard, age 84, always known as "Kitty" was born in Heilbronn Germany, November 19, 1933 to Johan Kantenwein and Paula Forstner. Kitty passed away on January 12, 2018, at Renown Medical Center.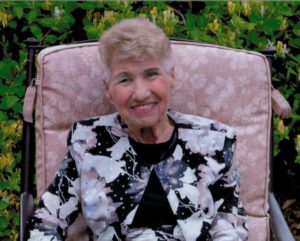 Kitty met and married Paul J. Wilder and they raised four children together. They were married 55 years. Kitty enjoyed being an entrepreneur, bringing Wilder Electronics, Wilder House bed & Breakfast and Plants Plus to the Valley. Kitty loved creating floral arrangements, cooking and taking care of her family.
Kitty was preceded in death by her father John Kantenwein and mother Paula Forstner.
As she moves on she leaves behind her loving husband Paul J. Wilder (Skip), her children, Son, Clay Wilder and wife Nancy, Daughter, Cathy Miller and husband Daniel, Son, Mark Wilder and wife Cheryl and Daughter, Wendy Stine.
She will be deeply missed by her grandchildren, Heather Miller, Richard Brown, Nikki White, Markie Wilder, Clifford Wilder, Sheyanne Wilder, Garrett Wilder, Lindsey Stine, Justin Stine and Katie Sutton.
She leaves behind several great-grandchildren and several great, great grandchildren. She also leaves behind her brother Hans Kantenwein, his son Ginder and her sister Helga "Terry" Fontes and husband Arnold, and their son James. She also leaves behind several in-laws, nieces, nephews and cherished friends.
No formal services at this time.