A couple of weeks ago Kim Geiger of Lone Pine put her son's name on the Mom's Club list to receive packages from home. 23 year old Wayne Geiger joined the Army and went to Iraq in September. Friday morning, the Army called Randy and Kim Geiger with the terrible news that their son, Wayne, had been killed by an explosive device.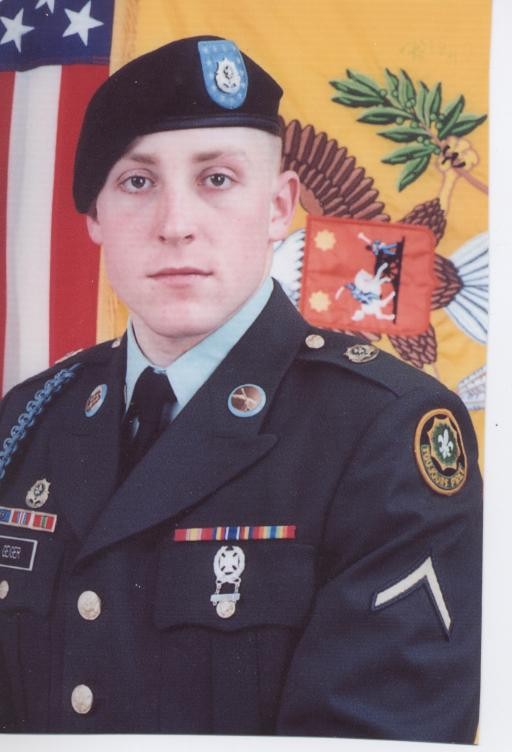 Sheriff Bill Lutze confirmed this grim news today. Lt. Randy Geiger has long been a member of the Inyo Sheriff's Department and a resident of Lone Pine. His son was 23 year old U.S. Army Specialist, Wayne Geiger, 2nd Platoon, H Company, 3rd Squad, 2nd Stryker Calvary Regiment, stationed at Camp Stryker, Baghdad, Iraq.
Marilyn Nicholson of the MOM's Club – that's Mothers of the Military – said she had just met Kim Geiger when she came to the packing night in Bishop, where local mothers of young people in the military put together pacakges from home.
Nicholson confirmed that this is the first loss for the Eastern Sierra. She asked that we all pray for the Geiger family and keep them in our thoughts.
Inyo and Mono had been lucky these 4 years during the Iraq war. Luck ran out, and sorrow came to our two counties with this loss.
The Inyo Supervisors directed that all American flags at county facilities be flown at half-staff in honor of Wayne Geiger. Officials said that this is the first casualty from Inyo County and the Chairperson feels that it is fitting and appropriate to honor this local hero who died in the line of duty, defending his country by flying our nations flag at half-staff.
Lone Pine VFW Color Guard members planned to carry out a brief ceremony at Lone Pine High's football game Friday night. A bugler was slated to play taps with a period of silence. Wayne Geiger was a 2003 graduate of Lone Pine High School. He enlisted in the U.S. Army in October 2005 and was deployed to Iraq September 1, 2007. Specialist Geiger is survived by his parents, Lt. Randy Geiger and Sheriff's Civil Officer Kim Geiger, along with sister Jessica of Lone Pine and many other relatives and friends. Funeral arrangements for Specialist Geigere are pending.